02/25/2020
Current trend
On Tuesday, the NZD/USD pair continues to trade near the low of 2020. USD was under short-term pressure by Friday macroeconomic publications, which were worse than forecasts. Also, the price was supported by the New Zealand government measures to curb the coronavirus epidemic spread. In particular, the ban on entry from mainland China was extended, and the Minister of Finance announced the government's readiness to support citizens and business.
Commodity currencies are under growing pressure due to a sharp increase in the number of infections in the Asian region. South Korea, a major trading partner of New Zealand and Australia, reported 833 cases of infection, but its authorities are making every effort to combat the spread of the virus. Currently, more than 16K tests have been conducted against less than 500 ones in the US. The passivity of American healthcare in the face of coronavirus limits the growth of USD.
A weakening New Zealand economy indicates an early decline in interest rates. Commodity currencies lose attractiveness, so the instrument will continue to move within the "bearish" trend.
Today at 17:00 (GMT+2), US consumer confidence will be released, which will increase the pressure on the pair.
Support and resistance
On a 4-hour chart, the instrument consolidates at Bollinger bands' bottom. The indicator is directed downwards, and the price range decreased, which confirms the correctional dynamics. MACD keeps a sell signal. Stochastic generated a strong sell signal.
Resistance levels: 0.6362, 0.6413, 0.6470, 0.6540.
Support levels: 0.6330, 0.6300, 0.6265, 0.6232, 0.6199.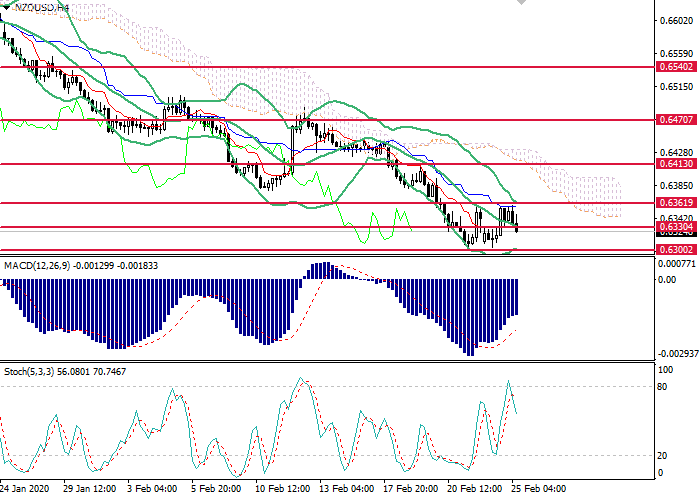 Trading tips
Short positions may be opened from the current level with the target at 0.6265 and stop loss 0.6370. Implementation period: 1–2 days.
Long positions may be opened above 0.6370 with the target at 0.6440 and stop loss 0.6335. Implementation period: 1–3 days.