02/21/2020
Current trend
Since the beginning of this year, oil prices have lost more than 20% amid the consequences of a trade confrontation between the United States and China, fears of a decrease in Chinese demand for energy resources due to the coronavirus epidemic and disagreements of members of the OPEC+ agreement. However, the price has now entered a correction. In early February, it tested a local minimum at 53.50, renewed more than a year ago but the next week and a half regained more than $6 and is now trading at 59.20, 58.50.
Recently, the fundamental background has become favorable for the market. The signs of the weakening of the Chinese epidemic give investors hope that the PRC will not significantly reduce its consumption of "black gold". Yesterday's EIA report data recorded a slight increase in oil reserves by 0.414 million barrels but gasoline inventories decreased by 1.971 million barrels, and distillates fell by 0.636 million barrels.
Support and resistance
The formation of a long-term wide sideways trend is expected within 66.00–55.30. Before the next OPEC+ meeting, the price is unlikely to drop below $50 per barrel, which is only possible if the agreement to reduce oil production is broken or one of the countries leaves it. In the medium term, the price may return to recent lows at 53.50, after which, an upward wave will form again.
Technical indicators confirm the decline forecast. On the daily chart, high volumes of short MACD positions remain, and Bollinger bands are directed downwards.
Resistance levels: 59.20, 59.80, 60.85, 61.50, 62.05, 63.50, 66.00.
Support levels: 58.05, 57.70, 57.00, 55.30, 53.50, 53.00.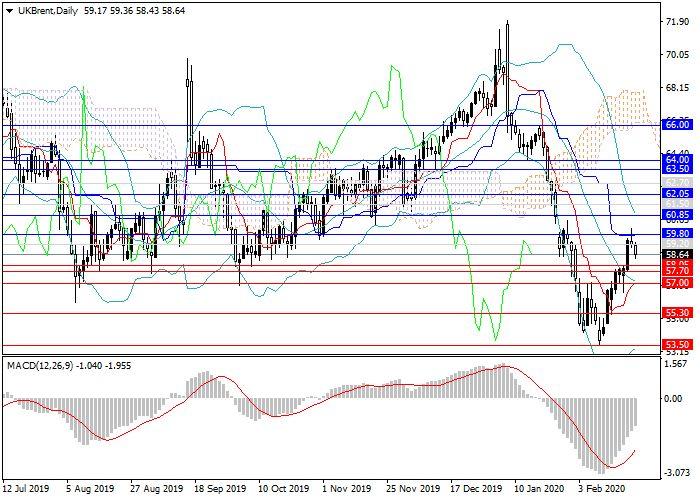 Trading tips
Short positions may be opened from the current level with the target at 53.50 and stop loss 61.30.
BCS Forex clients are provided with daily analytical reviews and forex market forecasts from the leading experts with many years of successful trading experience. Competent forecasts allow you to realistically assess the situation on Forex market and identify potential risks, as well as emerging investment opportunities. At the heart of professional forecast is an expert opinion based on analysis and the latest trends of the world financial markets.
To make forecasts, you need not only a comprehensive analysis of market fluctuations, but also  experience in Forex. Our experts possess all the features required for predicting certain market quotations. Analysis of such experts is supported by years of successful trading operations and in-depth knowledge of the peculiarities of global financial markets.