01/27/2020
Current trend
Last Friday, the GBP/USD pair moderately decreased, despite the release of positive preliminary data on business activity in the UK. After the publication, the price reached the level of 1.3170. Speculators immediately reacted to a sharp change in dynamics, exerting pressure through mass sales. First of all, the distrust of market participants caused the expectation of production activity growth. Earlier, several officials of the British regulator allowed a reduction in interest rates at the next meeting of the Monetary Policy Committee, which will be held next Thursday. One of the key drivers of this solution is the dynamics of the manufacturing sector.
USD was supported by the positive composite PMI index, which reached a 10-year high due to the acceleration of the services sector. Also, the intention of the government to impose additional duties on cars imported from Europe had a positive effect. Thus, Washington may want to increase the share of American companies in the European agricultural market.
This week, traders are focused on the decisions of the American and British monetary policy regulators. Committee meetings will be held on Wednesday and Thursday.
Support and resistance
On a 4-hour chart, the instrument tests a strong resistance of 1.3100. Bollinger Bands are directed horizontally, and the price range has declined slightly, indicating an intraday correction. The MACD and Stochastic do not give a clear signal to enter the market, confirming the presence of correction dynamics.
Resistance levels: 1.3100, 1.3160, 1.3225, 1.3297.
Support levels: 1.3048, 1.2984, 1.2921, 1.2836.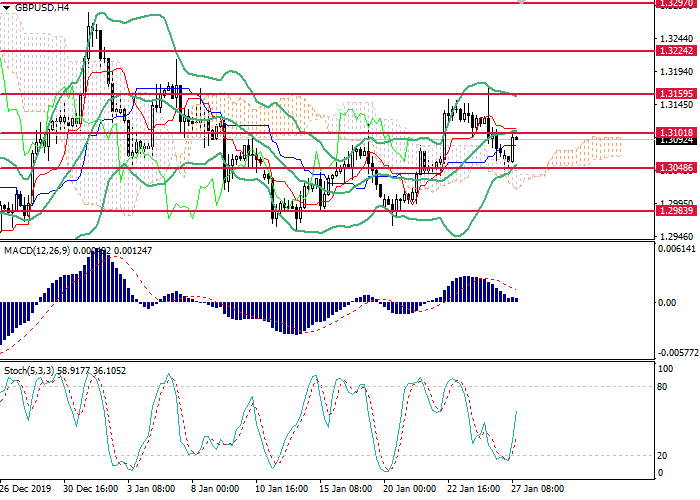 Trading tips
Long positions may be opened above 1.3115 with the target at 1.3195 and stop loss 1.3085. Implementation period: 1–2 days.
Short positions may be opened below 1.3055 with the target at 1.2925 and stop loss 1.3110. Implementation period: 1–3 days.
BCS Forex clients are provided with daily analytical reviews and forex market forecasts from the leading experts with many years of successful trading experience. Competent forecasts allow you to realistically assess the situation on Forex market and identify potential risks, as well as emerging investment opportunities. At the heart of professional forecast is an expert opinion based on analysis and the latest trends of the world financial markets.
To make forecasts, you need not only a comprehensive analysis of market fluctuations, but also  experience in Forex. Our experts possess all the features required for predicting certain market quotations. Analysis of such experts is supported by years of successful trading operations and in-depth knowledge of the peculiarities of global financial markets.