01/24/2020
Current trend
This week, oil is trading within a steady "bearish" trend. Yesterday and today, there has been minimal growth amid declining US stocks. Technically, a downward correction occurs, while fundamental factors indicate a further fall in the instrument.
At the moment, the most significant pressure on the price is exerted by the spread of the Chinese coronavirus. Chinese authorities intend to close 13 cities to prevent an epidemic. China is the largest oil consumer in the world. Restrictions on travel and flights in the region will lead to a drop in energy demand. In addition, the high likelihood of a reduction in tourism in the region will greatly weaken the Chinese economy. Another strong fundamental factor indicating the vulnerability of the hydrocarbon market is the IEA head Fatih Birol's report, according to which in the first half of 2020 the excess oil will grow by at least 1 million barrels per day.
Today at 20:00 (GMT+2), US Baker Hughes Oil Rig Count will be released. The expected increase will contribute to the fall of the instrument to 60.50.
Support and resistance
On the 4-hour chart, a downtrend correction is observed. The instrument consolidates near a strong psychological level of 62.00. Bollinger Bands are directed downwards, and the price range expanded, indicating a downtrend. MACD keeps a strong sell signal. Stochastic reversed downwards at the border of the overbought zone, a signal to open positions was not formed.
Resistance levels: 63.48, 65.70, 67.92, 70.00.
Support levels: 62.00, 60.65, 58.31.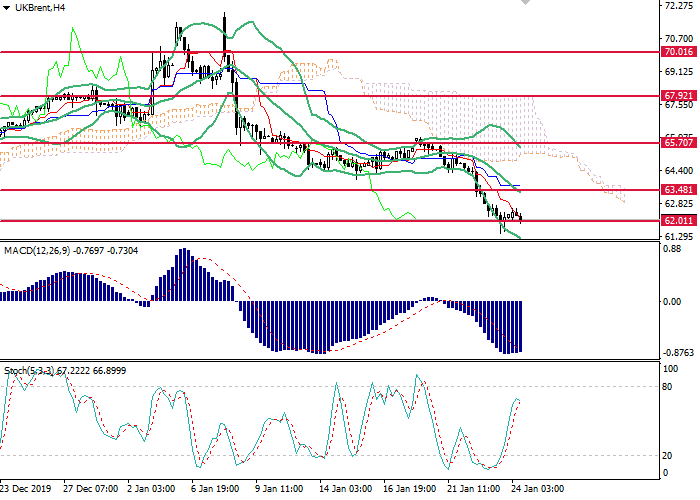 Trading tips
Short positions may be opened from the current level with the target at 58.50 and stop loss 63.60.
Long positions may be opened above 63.65 with the target at 65.00 and stop loss 62.90.
Implementation period: 2–4 days.
BCS Forex clients are provided with daily analytical reviews and forex market forecasts from the leading experts with many years of successful trading experience. Competent forecasts allow you to realistically assess the situation on Forex market and identify potential risks, as well as emerging investment opportunities. At the heart of professional forecast is an expert opinion based on analysis and the latest trends of the world financial markets.
To make forecasts, you need not only a comprehensive analysis of market fluctuations, but also  experience in Forex. Our experts possess all the features required for predicting certain market quotations. Analysis of such experts is supported by years of successful trading operations and in-depth knowledge of the peculiarities of global financial markets.