06/12/2019
Current trend
The Nasdaq index failed to consolidate above the resistance level of 7594.8 and is now trading at 7474.1.
Significant support for stock indexes can be provided with interest rate cuts. The probability of this event at the July Fed meeting is more than 80%. On Friday, employment data was published, which with a result of 75K were below the forecast (185K). So, the regulator may use monetary policy to stimulate the economy. Also, a change in the rate may be affected by a trade conflict with China and an increase in global risks amid slowing global economy. The production business activity is also declining: if the index falls below 50 points, this will be a sign of a recession (the current value is 52.1 points). Also, a negative issue for the index is the drop in quotes of Google, Facebook, and Amazon, as the regulatory authorities plan to conduct a monopoly review on them.
Today, data on the consumer price index will be published (YoY and MoM).
Support and resistance
Stochastic is at the level of 7 points and indicates the possible correction.
Resistance levels: 7594.8, 7676.5.
Support levels: 7284.6, 7155.5.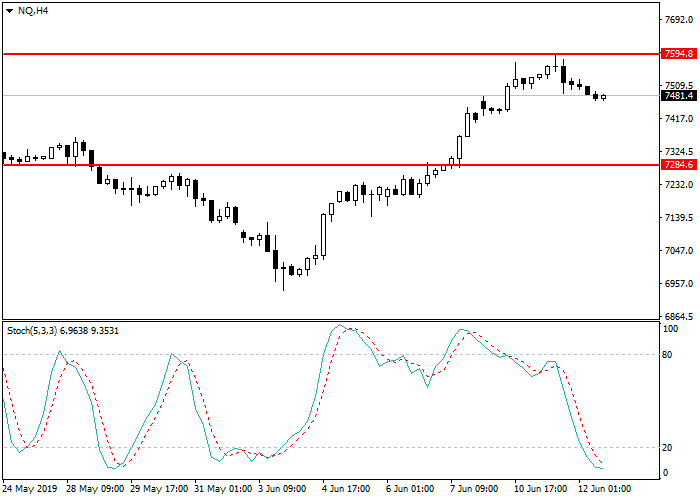 Trading tips
Short positions may be opened from the current level with take-profit at 7284.6 and stop loss at 7594.8.
BCS Forex clients are provided with daily analytical reviews and forex market forecasts from the leading experts with many years of successful trading experience. Competent forecasts allow you to realistically assess the situation on Forex market and identify potential risks, as well as emerging investment opportunities. At the heart of professional forecast is an expert opinion based on analysis and the latest trends of the world financial markets.
To make forecasts, you need not only a comprehensive analysis of market fluctuations, but also  experience in Forex. Our experts possess all the features required for predicting certain market quotations. Analysis of such experts is supported by years of successful trading operations and in-depth knowledge of the peculiarities of global financial markets.