06/11/2019
Current trend
On Tuesday, oil prices are recovering due to Washington's decision to abolish the increase in duties on Mexican goods. The leaders of the United States and Mexico managed to reach an agreement on immigration issues, which reduced investors' concerns about slowing global growth and falling fuel demand.
Investors are focused on the OPEC summit, scheduled for June 25–26, where the cartel members will announce the decision on the volume of production, which will be valid until the end of 2019. Also, the announcement of the official position of Russia, which is the main ally of OPEC, can have a strong impact on the oil market.
Today at 14:30 (GMT+2), US PPI data will be released. Tomorrow, at 03:30 (GMT+2), Chinese CPI will be published, and at 14:30 (GMT+2) US CPI data will be released. The inflation statistics of the world's largest economies will have a strong impact on the trading instrument since negative indicators will reflect a shortage of demand for hydrocarbons. In addition, tomorrow the US Department of Energy will publish stocks and inventories data.
Support and resistance
On the 4-hour chart, the instrument restored at the top of Bollinger bands. The indicator reverses sideways, and the price range is slightly reduced, which indicates the presence of an upward correction. The MACD does not give a signal to enter the market. Stochastic left the oversold area, forming a buy signal.
Resistance levels: 54.16, 55.15, 57.63.
Support levels: 53.00, 51.68, 49.96.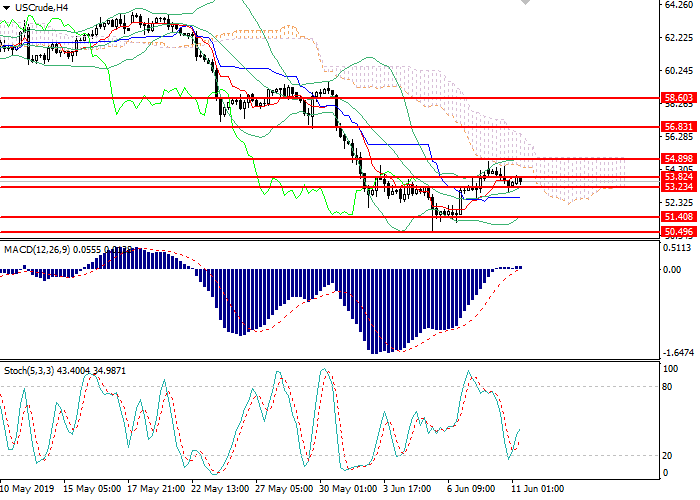 Trading tips
Long positions can be opened above 53.80 with the target at 54.80 and stop loss 53.10. Implementation period: 1–2 days.
Short positions can be opened below 53.15 with the target at 51.40 and stop loss 53.85. Implementation period: 1–3 days.
BCS Forex clients are provided with daily analytical reviews and forex market forecasts from the leading experts with many years of successful trading experience. Competent forecasts allow you to realistically assess the situation on Forex market and identify potential risks, as well as emerging investment opportunities. At the heart of professional forecast is an expert opinion based on analysis and the latest trends of the world financial markets.
To make forecasts, you need not only a comprehensive analysis of market fluctuations, but also  experience in Forex. Our experts possess all the features required for predicting certain market quotations. Analysis of such experts is supported by years of successful trading operations and in-depth knowledge of the peculiarities of global financial markets.