06/11/2019
NZD/USD, H4
On the H4 chart, there is a change from the ascending trend to the descending one. The instrument is declining along the lower border of Bollinger Bands, and the price range is widening. MACD histogram is in the positive zone with the buy signal weakening. Stochastic is in the oversold zone, and the signal line of the oscillator is directed horizontally.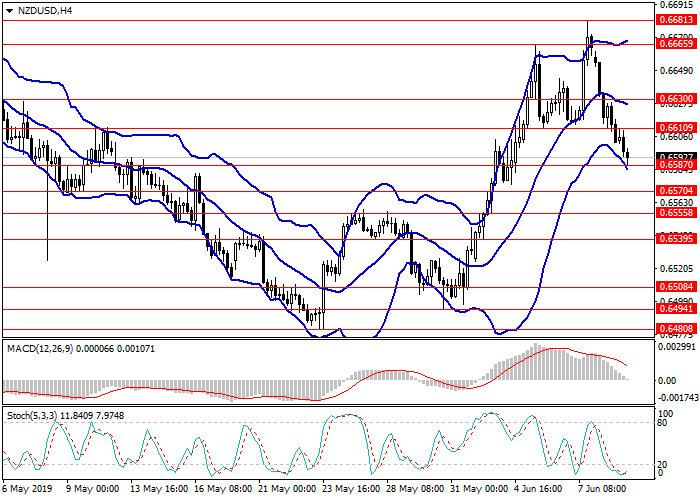 NZD/USD, D1
On the D1 chart, the instrument returned to decline after correction, and is being traded between the upper and the center line of Bollinger Bands; the indicator cloud is expanding. MACD histogram is at the zero level, its volumes are minimal and the signal line is directed upwards. Stochastic is in the neutral zone, and the lines of the oscillator are directed downwards.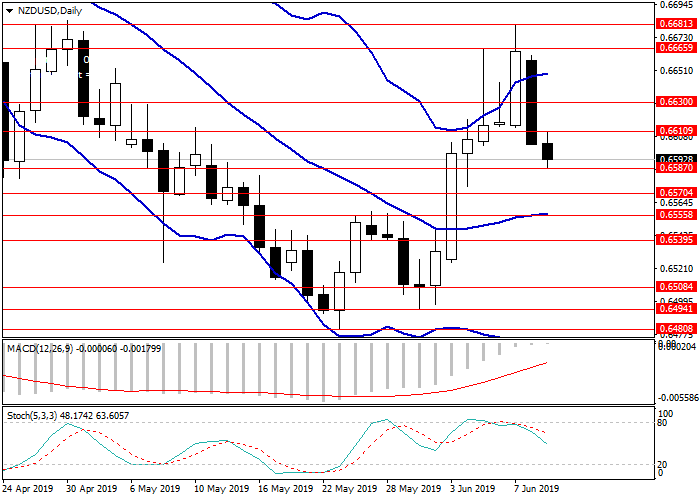 Key levels
Resistance levels: 0.6610, 0.6630, 0.6665, 0.6681.
Support levels: 0.6587, 0.6570, 0.6555, 0.6539, 0.6508, 0.6494, 0.6480.
Trading tips
Short positions may be opened from the current level with target at 0.6540 and stop loss at 0.6620.
Long positions may be opened from 0.6630 with target at 0.6680. Stop loss — 0.6600.
Implementation time: 1-3 days.
BCS Forex clients are provided with daily analytical reviews and forex market forecasts from the leading experts with many years of successful trading experience. Competent forecasts allow you to realistically assess the situation on Forex market and identify potential risks, as well as emerging investment opportunities. At the heart of professional forecast is an expert opinion based on analysis and the latest trends of the world financial markets.
To make forecasts, you need not only a comprehensive analysis of market fluctuations, but also  experience in Forex. Our experts possess all the features required for predicting certain market quotations. Analysis of such experts is supported by years of successful trading operations and in-depth knowledge of the peculiarities of global financial markets.