03/14/2019
Current trend
Today, the price of Brent crude oil continues to grow, reaching a maximum value since mid-November.
The instrument was supported by a reduction in US stocks. According to yesterday's EIA report, the stock of major petroleum products declined over the week by 3.86 million barrels, while analysts had forecast growth of 2.66 million barrels. Last Tuesday, API published its weekly report, which also reflected the reduction in stocks. Additional market support is provided by OPEC actions aimed at reducing production, as well as US sanctions against Venezuela and Iran.
Tomorrow at 20:00 (GMT+2) Baker Hughes will publish statistics on active drilling rigs in the USA. Reducing drilling volumes will allow the instrument to update local maxima. However, interest in risk in all markets is formed amid events in the UK. Yesterday, Parliament rejected the Brexit without a deal with the EU. Today at 22:00 (GMT+2), a vote will be held on the postponement of Brexit. Investors believe that the delay will have a positive impact on the hydrocarbon market.
Support and resistance
H4 chart shows the correction of an upward trend. The instrument has reversed down from the key resistance level of 68.00. Bollinger Bands are directed upwards, and the price range has widened indicating the preservation of the current trend. MACD histogram is in the positive zone forming the buy signal. Stochastic has left the oversold zone and formed a strong sell signal.
Support levels: 66.75, 65.74, 64.13, 62.81, 60.94.
Resistance levels: 68.02, 69.41, 70.50.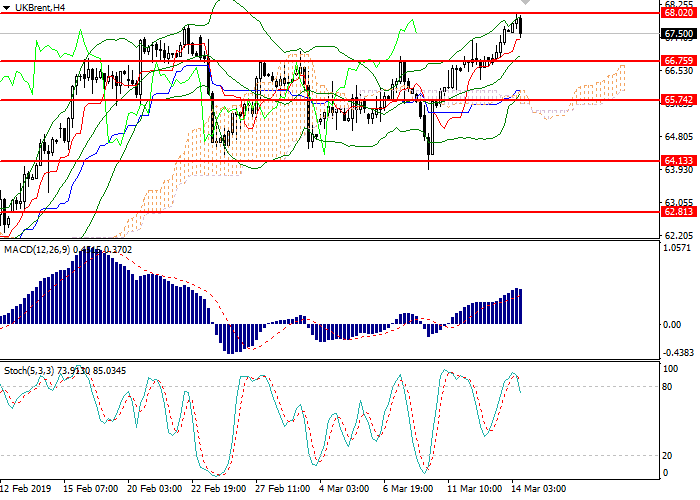 Trading tips
Long positions may be opened above 68.05 with the target at 69.40 and stop loss at 67.45.
Short positions may be opened below 66.75 with the target at 65.75 and stop loss at 67.05.
Implementation period: 1-3 days.
BCS Forex clients are provided with daily analytical reviews and forex market forecasts from the leading experts with many years of successful trading experience. Competent forecasts allow you to realistically assess the situation on Forex market and identify potential risks, as well as emerging investment opportunities. At the heart of professional forecast is an expert opinion based on analysis and the latest trends of the world financial markets.
To make forecasts, you need not only a comprehensive analysis of market fluctuations, but also  experience in Forex. Our experts possess all the features required for predicting certain market quotations. Analysis of such experts is supported by years of successful trading operations and in-depth knowledge of the peculiarities of global financial markets.