03/14/2019
XAG/USD, H4
On H4 chart, the instrument broke down the midline of Bollinger Bands from above, continuing to fall; the price range is narrowed. MACD histogram is in the positive zone with the buy signal weakening. Stochastic crosses the border of the oversold zone from above, forming a signal to open buy orders.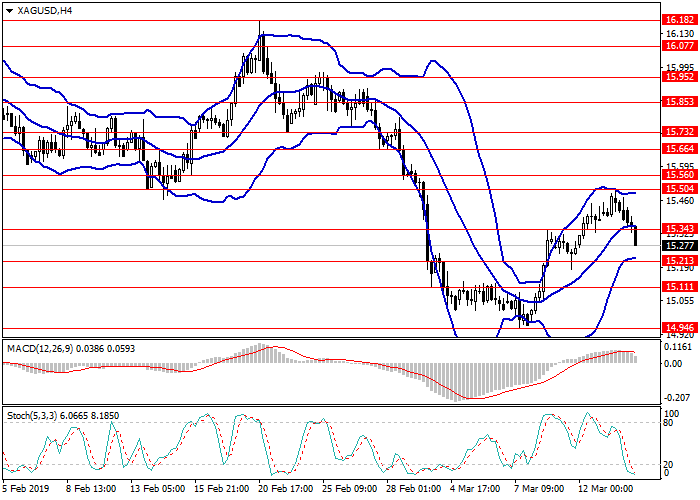 XAG/USD, D1
On D1 chart, the instrument could not break out the resistance level of 15.50, indicated by the midline of Bollinger Bands, and reversed down; the price range is expanded. MACD histogram is in the negative zone, the signal line is crossing the zero line and the body of the histogram from above, forming a signal to open short positions. Stochastic is on the border with the overbought area, the signal line is pointing up.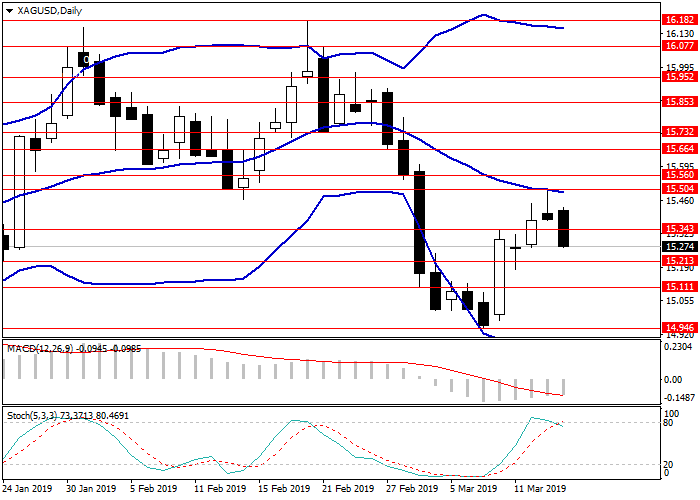 Key levels
Support levels: 15.21, 15.11, 14.94, 14.90.
Resistance levels: 15.34, 15.50, 15.56, 15.66, 15.73, 15.85, 15.95, 16.00, 16.18.
Trading tips
According to technical indicators, short positions could be opened from the current level with the target at 14.94 and stop loss at 15.50. Implementation period: 1-3 days.
Long positions may be opened from the level of 15.56 with the target at 16.00 and stop loss at 15.21. Implementation period: 3-5 days.
BCS Forex clients are provided with daily analytical reviews and forex market forecasts from the leading experts with many years of successful trading experience. Competent forecasts allow you to realistically assess the situation on Forex market and identify potential risks, as well as emerging investment opportunities. At the heart of professional forecast is an expert opinion based on analysis and the latest trends of the world financial markets.
To make forecasts, you need not only a comprehensive analysis of market fluctuations, but also  experience in Forex. Our experts possess all the features required for predicting certain market quotations. Analysis of such experts is supported by years of successful trading operations and in-depth knowledge of the peculiarities of global financial markets.