02/08/2019
Current trend
On Thursday, the price of Brent crude oil fell after reports that the Russian Federation did not consider it necessary to immediately reduce oil production.
OPEC countries and Saudi Arabia in particular hoped for signing of a formal agreement with Russia on reducing production volumes. However, Moscow currently does not see the need for a forced formalization of the agreement in the OPEC+ format. The Russian side is confident that competitors will take advantage of the decrease in volumes. However, the Minister of Energy of the Russian Federation Alexander Novak announced the possibility of signing the contract at the OPEC meeting in April.
The slowdown in the global economy has a negative impact on oil demand, while the US is close to record production, ahead of Russia and Saudi Arabia.
Today no macroeconomic data releases that may affect the dynamics of the instrument are expected. Traders continue to monitor the attempts of OPEC to influence the Russian Federation. Next Tuesday and Wednesday the US will publish statistics on the level of oil production and the number of drilling rigs.
Support and resistance
On the H4 chart, the instrument is trading at the lower boundary of Bollinger Bands, which is the key support level. The indicator is reversing downwards, and the price range widened, pointing to the further decline. MACD histogram started declining having formed a sell signal. Stochastic does not give a clear signal for opening positions.
Resistance levels: 61.58, 62.13, 63.16, 63.68.
Support levels: 61.06, 60.64, 59.95, 59.14.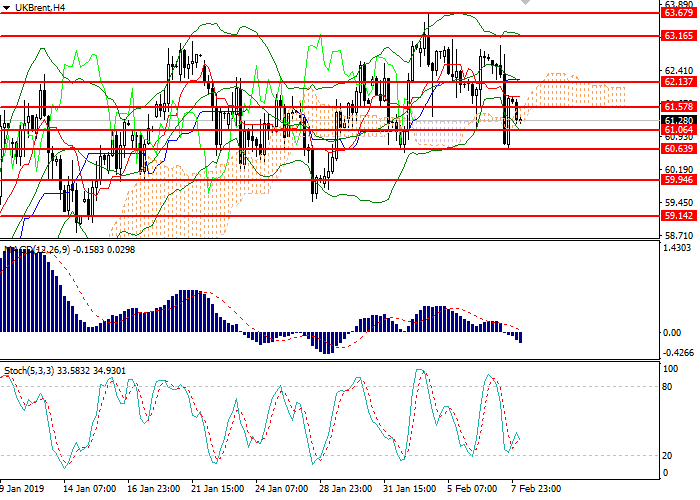 Trading tips
Short positions may be opened below 61.00 with target at 59.60 and stop loss at 61.25. Implementation time: 2-4 days.
Long positions may be opened above 61.65 with target at 62.20 and stop loss at 61.20. Implementation time: 1-3 days.
BCS Forex clients are provided with daily analytical reviews and forex market forecasts from the leading experts with many years of successful trading experience. Competent forecasts allow you to realistically assess the situation on Forex market and identify potential risks, as well as emerging investment opportunities. At the heart of professional forecast is an expert opinion based on analysis and the latest trends of the world financial markets.
To make forecasts, you need not only a comprehensive analysis of market fluctuations, but also  experience in Forex. Our experts possess all the features required for predicting certain market quotations. Analysis of such experts is supported by years of successful trading operations and in-depth knowledge of the peculiarities of global financial markets.