12/06/2018
Current trend
The Dow Jones index is traded with a slight growth with the opening of the European session. The nearest important support level is at 24609.4 (Murrey [–1/8]), if it is broken down, the next target will be at 24307.0.
Yields on debt securities continue to decline. The risk premium on 10-year bonds fell below 3%, which keeps the stock market from further falling. The probability of an interest rate increase in December remains high and market prices already take this factor into account. A worrying sign for the US economy is the spread between yields on two-year and ten-year bonds, which is approaching zero value. If it reaches a negative figure, then this may be a sign of a recession in the economy. Recently, the US economy has shown moderate growth due to the low interest rate and initiatives proposed by Donald Trump for fiscal policy, however, due to the loss of congressional seats, many proposals of the current president may lose their support.
On Friday, data on Nonfarm Employment Change will be published in the US.
Support and resistance
Stochastic is at the level of 31 points and indicates the possible correction.
Resistance levels: 24833.0, 25000.0.
Support levels: 24609.4, 24307.0.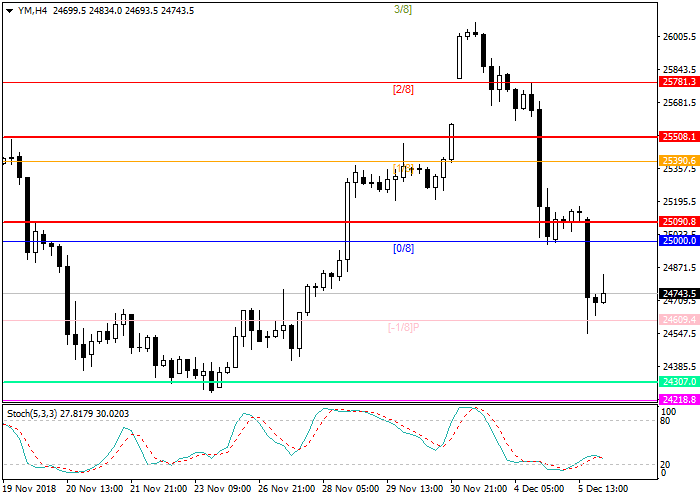 Trading tips
Open short positions after the breakdown of the level of 24609.4 with take profit at 24307.0 and stop loss at 24750.0.
BCS Forex clients are provided with daily analytical reviews and forex market forecasts from the leading experts with many years of successful trading experience. Competent forecasts allow you to realistically assess the situation on Forex market and identify potential risks, as well as emerging investment opportunities. At the heart of professional forecast is an expert opinion based on analysis and the latest trends of the world financial markets.
To make forecasts, you need not only a comprehensive analysis of market fluctuations, but also  experience in Forex. Our experts possess all the features required for predicting certain market quotations. Analysis of such experts is supported by years of successful trading operations and in-depth knowledge of the peculiarities of global financial markets.